ALMOST BSA B50.


Do you want to have your ALMOST BSA B50 :-) on this page please
send me your photo and I publish it here.
B50 homepage


---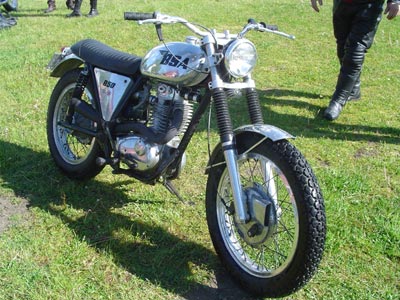 Jonny Hägerklintīs ( My brother in law )B50 (Sweden).

CCM 1977 engine? in a MX Frame.
Donīt know what fork.


---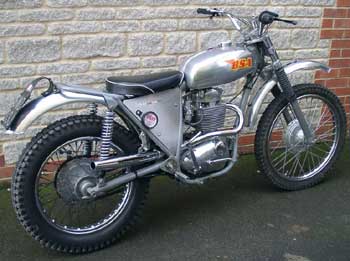 Chris cullenīs B44 in a B50 Frame.
Somerset UK


---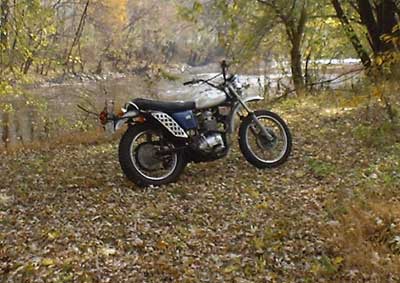 Macīs 1971 Triumph T25T With 1967 B44R engine.
Cumberland,MD. USA

---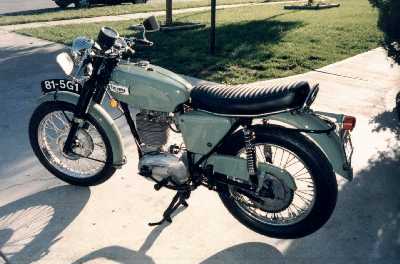 Zel Umaliīs Triumph TR25W 1970 with B50 Engine.
Kansas City, Missouri, USA.

Hereīs a little history of the motorcycle:

My friend purchased it here in Kansas City from a man who owns a "hot rod" machine shop. The bike was originallya 1970 Triumph 1R25W. The owner of the machine shop restores and modifies cars and motorcycle for racing.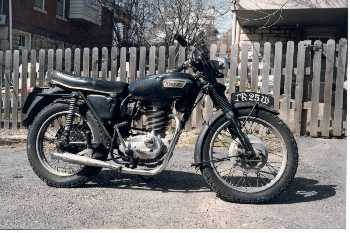 Before

He replaced the 250 motor with a BSA B50T motor and used it for scrambles. My friend then purchased it from him after the owner rebuilt the motor in 1991. He then gave it to me as payment for photographing his wedding. I then completely took it apart except for the motor. I had the frame sandblasted and then powdercoated. The other metal parts I had painted 1972 Jaguar Willow Green, which I thought would be a different color. I had the seat redone, the wheels relaced, and the speedometer recalibrated and restored. As for modifications, I had new Metzlers replace the original Dunlops, a new WasselIjunior Ace bar replace the original handlebars, a Boyer Brandson electronic system replace the points, new Progressive Suspension shocks installed, and I changed the headlight with a larger street unit with and arometer. I also replaced the chrome controllevers with Dougherty alloy racing levers with the quick-adjust star wheels. In the photo the original Amal carb is seen but has since been replaced with a Mikuni unit. Now it starts much easier. It took about a year and a half to complete the resoration.
Zel Umali

---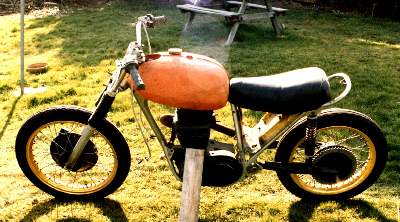 Point at photo to seee more. 92 kb.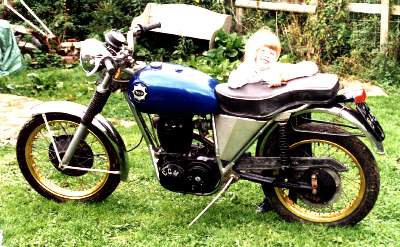 Chris Pelletīs CCM

Bought the CCM in '78 as a worn out MotoXer. It's a short stroke motor and with the lengthened swinging arm and large gearbox sprocket should make the best set up for road use. Done the oiling mods and fitted a bearing behind the clutch. 'Fraid progress is v e r y slow, so although it runs sweet, it'll be next year before I sort out the rear sets and tilt them shockers down. Meanwhile you'll still see me out on the Trailblazer, and there's a couple more B25SS's in the workshop that might make the road soon.
Chris Pellett
Sussex. (UK)


---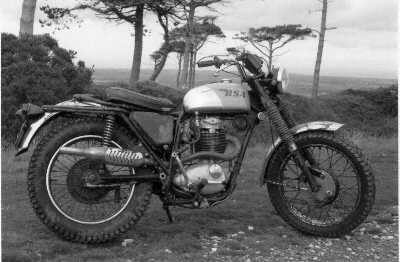 Edward Westīs BSA Victor with BSA B50 MX engine.
Photo was taken about 1986, Off road in the hills on the
Isle of Man at Manx Grand Prix time.
St Albans (UK)


---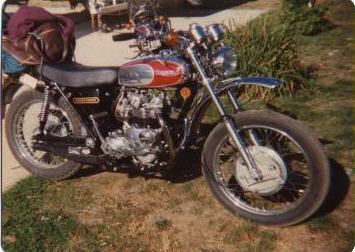 This is a real 'Tribsa' Triumph Adventurer- made of BSA B50 Victor
frame with a Triumph T100 engine.
Photo from Peter R Cartledge (Melbourne. Australia)


---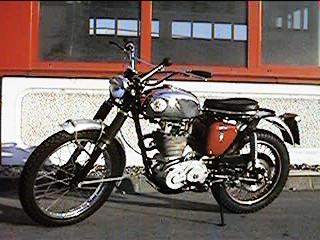 BSA B40 (1962) with CCM engine.
It is 125 Kg, 32 carb, 12 volts, Rita and has 90mm bore.
It is street legal.

ESPEN EVJEN
( Norway ).
Point at photo to see more. 23 kb


ESPENīs HOMEPAGE

---


Almost a whole family. BSA B50, B44 and B25.

---
TO TOP
Updated 22:22 2003-11-25
© Rickard Nebrér