BSA B50 Renovation Foto.


Do you want to have your BSA B50 renovation on this page please
send me your foto and I publish it here.
B50 homepage


---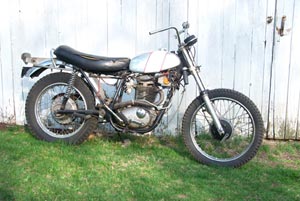 Peter Thiel´s BSA B50 T

When I got this bike, it was a mess. Someone had done a few things to it,
but mostly it was a crapper. It came with most of the original parts.
The motor was stuck, but with penetrating oil and gentle rocking back and forth
in gear, it came free. I'm saving going over the engine for last.

The engine and frame numbers matched (B50T/GE00174, June 1971), but the frame
had been welded badly in several places, particularly the front engine mount and
down tube. It has all of 3764 miles showing on the speedometer, which could be
possible, but maybe not. It still has the original type tires on it, with moulding
rubber between the tire blocks. I believe it was probably just stored outdoors
for a long time.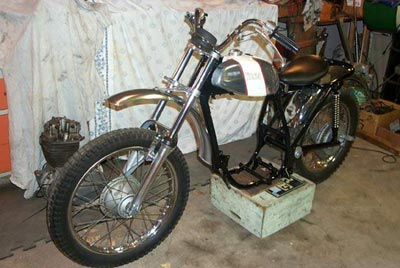 So I found a B25 frame, (AE04399 B25SS January1971), had it blasted and repainted
black, as the original frame is. At least it was black when I got it. As you will
see by the pictures, it has come a long way. The object is to make a fun dirt
blaster out of it, with some weight saving measures and custom touches.

I will be saving all the stock components for retrofit later if I want. There's
still a long way to go, and I'm not really happy with the heavy stock rear
fender or the high bars, so it is evolving as I go. I may even go all the way
to the dirt, removing lights and extra electrical components.
The seat is just placed loosely for the look at this point.

Peter Thiel
---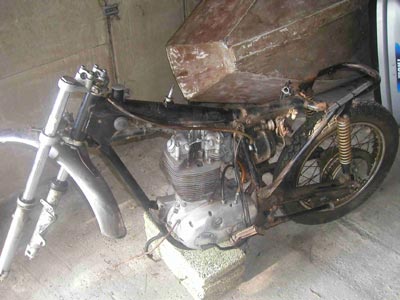 Roger Holmes BSA B50 MX.

Drove 9 hours last night to pick this thing up. It has matching B50MX engine & frame nos indicating 1973 & is oil in frame, so it looks all right. It needs a new piston, exhaust and generally putting back together, so an ideal winter's project.

Roger Holmes
---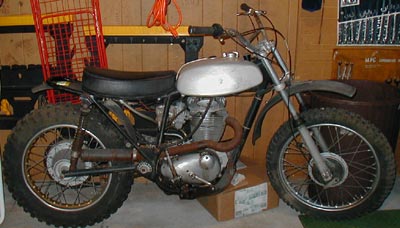 Danel White Wyoming, MI USA

As you can see by the picture my bike needs some work.
I live in a very industrialized are in the mid west of USA.
I will be able to re-chrome and powder coat all parts quit resemble.

Danel White
---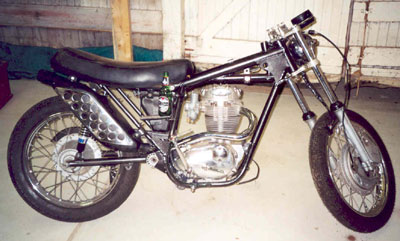 I've been rebuilding a 71 B50SS for the past 1.5 years. Its been a slow process. I'm currently rewiring the bike with a new wiring harness. this has been a long process. I'm still working on this. There seems to be more leads than needed.

Dean Stefan Pennsylvania, USA
---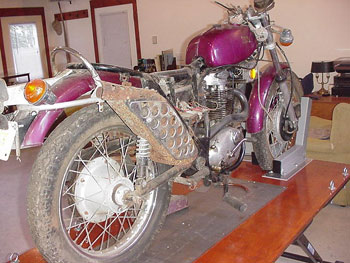 Wes Martins Renovation B50 (1972).
WISCONSIN USA

It's a 1972 B50SS JG code found in a barn
Wes
---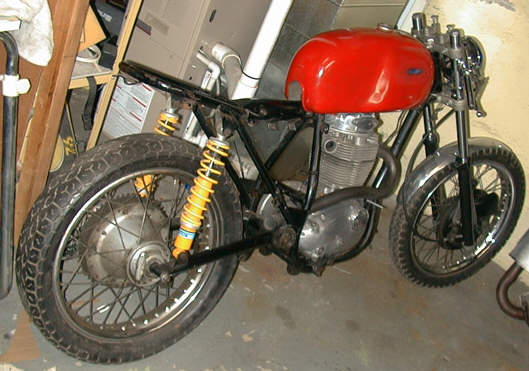 I acquired a B50T from my uncle 3 years ago and I'm now
thinking of working on it. The bike is very incomplete (see pictures).
I'm missing all the electrical components so I will have to find a wiring
harness or make my own. My plan is to make it into a Cafe type racer.
As you can tell from the photos, the previous owner did some weird stuff to the
intake. The engine is all rebuilt with new components I just have to find
all the right size screws and gaskets to put it together. I also need to
find a decent carburetor that will work with this engine. I'm also missing
the kick starter gear components inside the engine.
So, this will be a huge challenge.

Peter Balfour
Cambridge, Ontario
Canada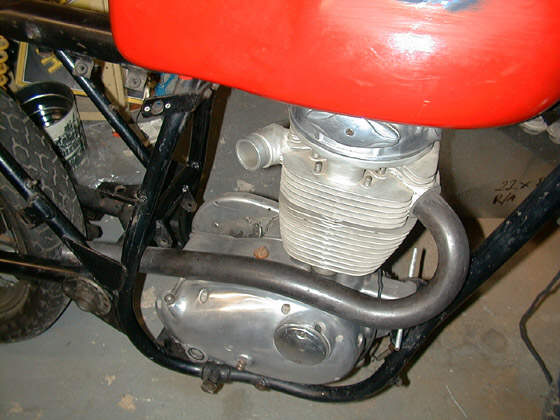 ---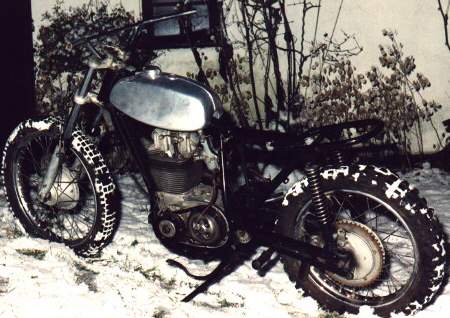 Jonny Hägerklint´s ( My brother in law ) BSA B50 T (1971)
Scania, Sweden.


He was tired to only see my tail lamp from his BSA A 65 and finally got a real bike.
Rickard


See left side 51 kb --- See right front 54 kb --- See right side 64 kb


---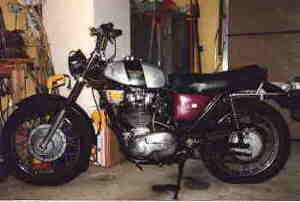 Håkan Cerne´s BSA B50 SS (1972) Before renovation
Scania, Sweden.
Point at photo to see after renovation. 26 kb.


---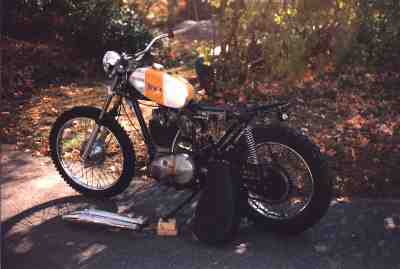 Marc Maria´s BSA B50 MX (1973)
Groveland Massachusetts USA
Point at photo to see more. 22 kb.
The bike have not been running for about 15 years.
I hope that we will se more photos after the renovation.

---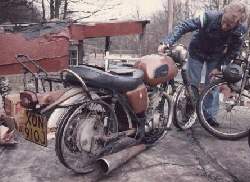 Point at photo to see more. 13 kb.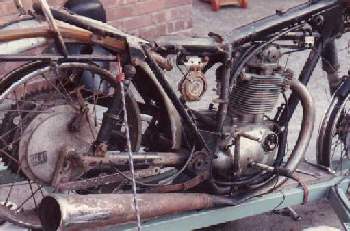 Point at photo to see more. 18 kb.


XON910J as found in a derelict condition, currently
under rebuild in England.

Photo From Paul Wilkinson. (England)

---
TO TOP
Updated 21:52 2004-01-06
© Rickard Nebrér