---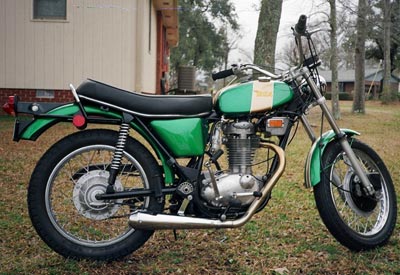 Mrmikes´s BSA B50 SS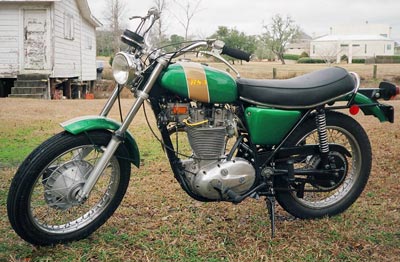 My B50 is mostly stock except for a ported head, 32mm Amal and a 1 5/8ths exhaust.
I have a couple of b44's and an A65, but I am sure after only 100 miles of riding that
the b50 will be my favorite ride.

Michael King
---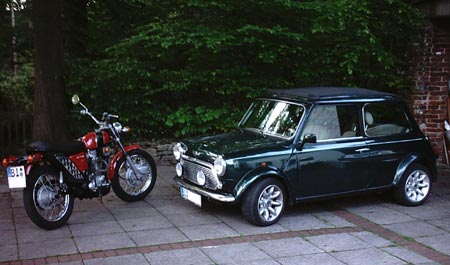 Christopher Colban´s BSA B50 SS from 1971.
(Bielefeld, Germany)

The BSA B50SS was sold in America in 1971 and imported to Switzerland
in the late nineties. I found the bike in the Internet and I took a plane
too Switzerland, looked at it, bought it and drove it right back to
Bielefeld (750 Km) with no problems.

It's a bad starter, but after reading about the starting procedure on
your B50 CD it has become easier.

A Boyer Bransden ignition is going to be fitted this year.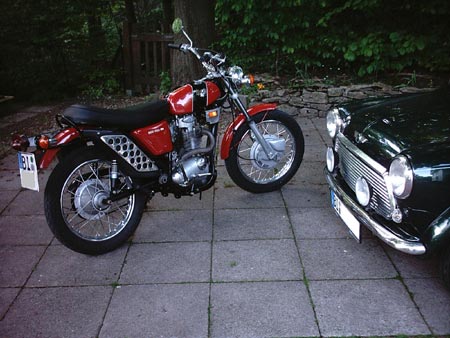 Christopher Colban
---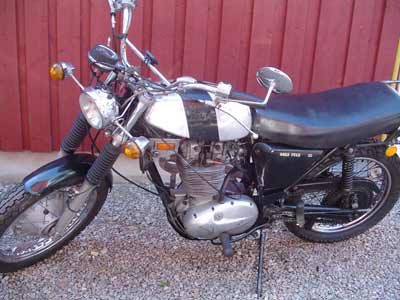 BSA B50 SS. Photo taken at the Int BSA Rally in Sweden 2003.


---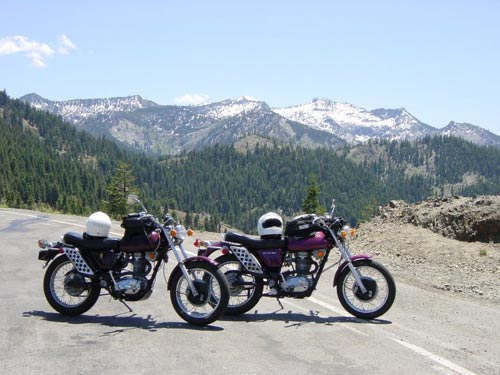 2 B50's in the Trinity Alps of Northern California

The purple B50 is the same one (now with a large tank) which used to belong to Frank Shockley. I bought it from him a few years ago and it has give me endless miles of faultless performance although I did have to install and improved oil pump as the in-line filter was just restrictive enough that the pump sometimes couldn't manage to return the oil through the filter and it would wet sump into the primary and spoil the clutch. Unfortunately I discovered that problem at the Int'l rally in Australia. But I still had a wonderful time there! The other B50 is one I convinced my friend to purchase after he saw the permanent smile I had after riding my B50. The photo is from a ride our club held last June. It was a 3 day ride around the far norther area of California covering at least 200 miles each day. It was an excellent adventure and our B50's never let us down!

Barry Porter USA

---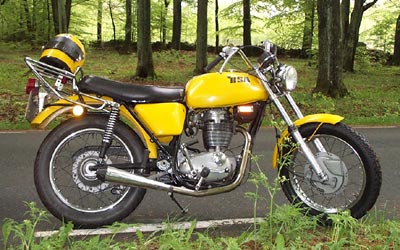 A BSA B50 SS From Bornholm Danemark.
Sorry forgot the name.

---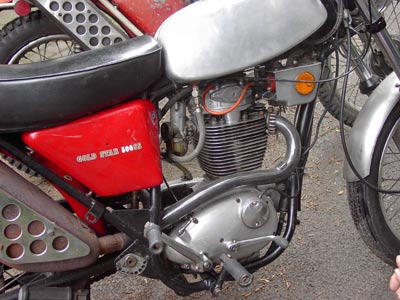 This one is a B50 ss 1971.This belongs to me. Need a restoration. When I'have time I will start with the project.
Aart Mulder (Groningen) Holland

---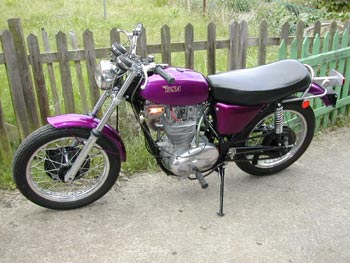 Kevin Hawkins BSA B50 SS
UK

This bike is a B50 SS first registered in 1973 although it was dispatched from the factory in july 71. I have painted the bike in the 72 colour scheme, alloy rims and black hubs are non standard, the 60mm tacho and speedo are the size used on the 250 oif models. The handle bar switches are to be replaced with the original equipment.This bike was used for hill climbing before i got it and since then i have rectified a few rather unusual modifications, various frame mods including cut away swinging arm to allow the use of absurdly large rear tyre, also the rear frame loop had been cut off, these "mods" have been corrected.

Kevin Hawkins
---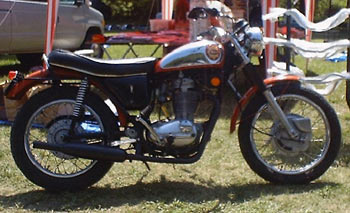 Photo from Mac.

---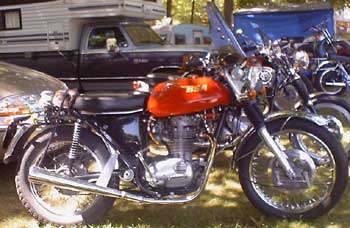 Photo from Mac.

---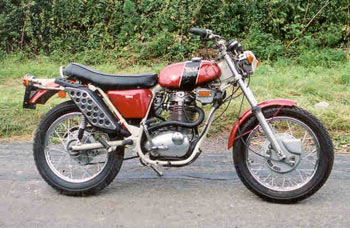 Brad Jones BSA B50 SS
UK

My refurbished B50SS, XON 909J. I bought it in 1986 and 2 years later started engine improvements.
Ex-B50 speedway project head which was gas-flowed by the late Fred Barlow, 34mm carb, MX camshaft,
CCM cam wheel and con rod. Also positive oil feed to rockers/cam and various other minor mods.
Having sold the bike as a rolling chassis 4 years ago, we managed to buy it back at an inflated price
(a different owner to the one we sold it to) and this time I was keen to refit the original silencer.
In order to make it work with the MX cam, I had to remove the back and construct a perforated tube/wool system.
It works well, but not quite as sharp as when it had a shorter megaphone type system.
Since the photo, the 60mm clocks have been replaced with 80mm ones.
Brad Jones
---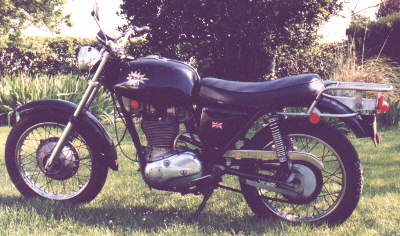 Francois Beluteau´s BSA B50 SS (1971)
France.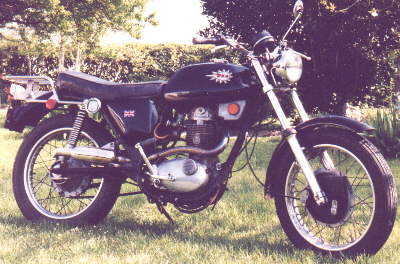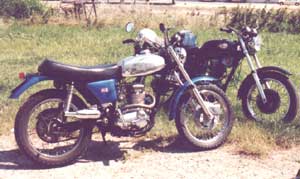 Francois B50 and his wifes BSA B25 SS
---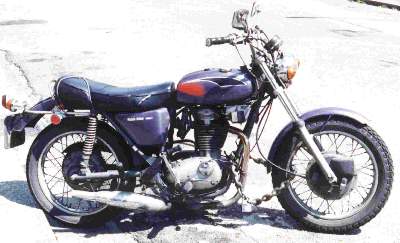 Phil Beresford´s BSA B50 SS (1971) UK

This is my old B50SS Reg. XON904J which I owned from 1986 to 1989 and used as
daily transport in London. The handling, brakes and acceleration made it a
perfect city bike which would see off many newer bikes between sets of lights.

The gearbox detente spring would break every 5,000 miles, otherwise it was reliable. It was the best bike I ever owned and I've finally just managed to buy another.
Phil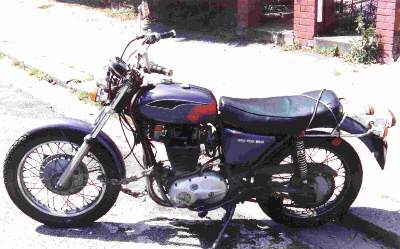 ---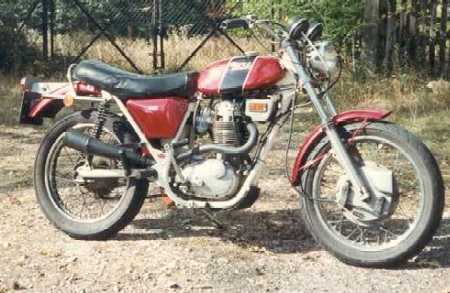 Brad Jones BSA B50 SS (1971)

---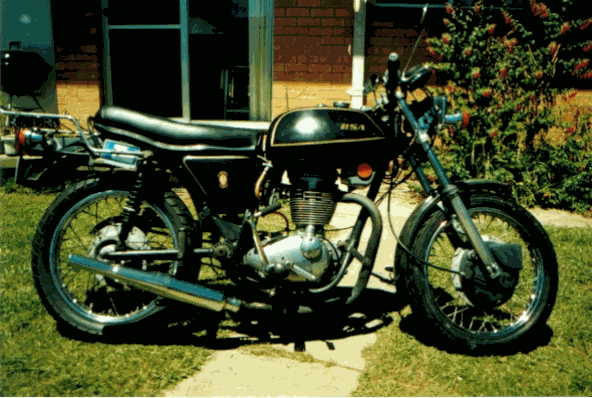 My B50SS is not the purists dream but it is a prime example of a practical bike with a story.

As most of the BSA's of its era (ie the weird Triumph powered BSA police bikes seen in Australia, Africa and Asia) my bike was 1st Registered in London, UK on 7 June 1972 with engine/frame no JE15665 that indicates a 1971 build except the engine has the 1972 bottom end (extra main bearing) and 1972 chassis parts. BSA seem to have really lost the plot in their dying years.

The bike came with me to live in Canada, New Zealand and Australia and although laid up for 12 years it was regularly used a other times, which explains why over the years I have upgraded the electrical system (3 phase Alternator, Boyer Ignition), and motor (big bore CCM piston, CCM head and valves, bigger exhaust pipe and Mark 11 Amal) Being a prime form of transport for many years it makes you look for ways to improve and modernise. I now use it for entertainment and ride to work (I am getting old, not the bike) with less of the high speed runs that were a mark of it's earlier lifestyle. I keep thinking maybe one day I may try to downgrade it back to standard with all its faults but not now. The use of early 80's CCM parts did create a hybrid engine which has a bit more horsepower. CCM did build them like a BSA B50 on steroids which is a great testimonial to the basic design. I did have an oil cooler fitted which made the engine a bit less temperamental in 40 degree C temperatures but made it slow warming up over the cooler months and living now in the hills of Canberra I have done without. A recent modification was to use A65 damper tubes in the forks which makes the riding a lot less harder on the front end.

There are a few faults which still annoy me, like the ability to stretch chains to be unusable on average every 5000 miles when used two up for touring and lifting the front wheel. The advantage on the latter being front tyres last a long time on this model. As for the notorious hard starting of the motor I agree as it is always difficult to start especially when unused for a while where the oil migrates to the sump, fouling the plug when you spin the engine over. If you use it regularly the bike starts within a few kicks. I must admit soft boots and a wimp kick may see a bruised instep and a flying leap when it kicks back. You learn that you have to have a certain level of fitness when you own a B50. It has always helped me to be against a kerb to get the height in the swing as I am not very tall or heavy. I have a DirectHit fitted on the plug, which seems to help.

I can source spares over here in Australia even though there were few of this model sold here as of course many BSA/Triumph chassis spares are identical. I can seriously recommend places like K and M HD Motorcycles in Adelaide, locally Robbo's in Canberra who seem to source the many odd items and the helpful guys at Britishspares in NZ.

The New Zealand connection dates back to the late 70's when my wife and I were founding members with a tremendous group of riders of the New Zealand BSA Owners Club which is still going well.

The bike has seen a lot of countryside, touring all around the British Isles (including Eire), Eastern USA/Canada, all around New Zealand and much of Australia. The bike has been Australian registered in South Australia, Queensland and Australian Capital Territory with touring in Victoria and New South Wales and I still have the plates. As a touring bike there are few bikes which I have found as easy and comfortable to ride long distance (the wife has fallen asleep on the back). Sad the BSA name disappeared and even sadder that CCM didn't see a market for a road version. Long live the Thumper Page.

John Pugh, Canberra, Australia

jhandlmpugh@aol.com



I got sick and tired of some annoying mechanical noise and stripped down my engine recently. It has been like this since I fitted a new piston from the CCM guy in England. It turned out the cut out on the piston was not big enough for my 46 mm Inlet valve and had been kissing the edge of the pocket due to valve guide wear. I rebuilt the engine with new bearings, guides and seals and opened out the piston pocket by hand. Bad mistake was to use the rear chain lubricant to lubricate the valves during reassembly which stopped normal oil going down the guide, so the engine inlet valve seized and slightly bent just after starting up. The bend was enough that we could not recover the inlet valve but the local engine reconditioner found that a standard Mitsubishi valve was correct head and only .003 thousands of an inch thicker stem and long enough to trim, stellite the tip and machine new collet grooves. So a word of advice - use modified Mitsubishi valves if you cannot get genuine ones. If needs be I can get you the source and part numbers to suit. Bike is going again and I suddenly remember what it is like to have few rattles in the engine again.

John Pugh, Canberra, Australia

---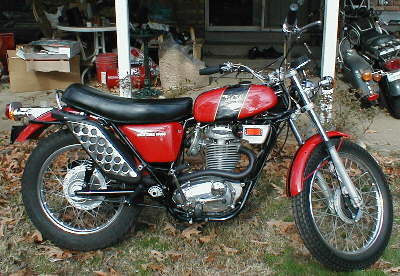 A B50 I restored for some one else. It is a 71 SS. Frame painted black, 20 inch small hub front wheel.
Stephen Herr