BSA B50 Thundersprint 2006
---
Some report and photos from our members visiting Thundersprint 2006.


---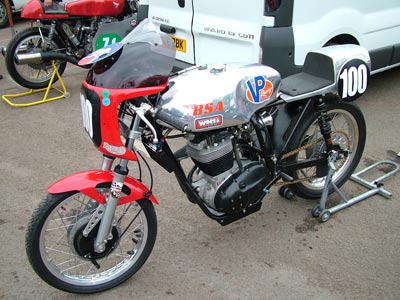 Brid Caveney´s B50 racer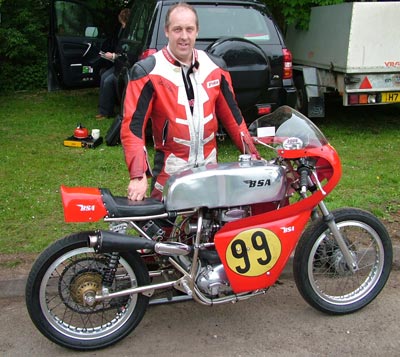 Howard Ostle with his M&T B50 racer

Pics from Paul Wilkinson


---
Thundersprint. Northwich UK May 7th 2006.
After many years of racing all over the United States, with quite a lot of success, I decided 2006 would be a year for trying different things we'd never done before, Planning the year started out with an invitation from Thundersprint owner/organiser, Frank Melling, to go to Northwich Cheshire, UK to race my B50 against Spanish Champ "Pepin" San Millan. Anyone with knowledge of the Thundersprint -- and Pepin, know the two names go together well, along with the B50 he so ably rides for builder/tuner Agustin Fernandez. My B50 was still on the Isle Of Man, from our 2005 Manx GP effort, so getting it to England was only a boat ride away. The bike was delivered to J&S Motorcycles in Northwich by a fellow racer. BAD NEWS!! Just a week before we travelled, we got the news that Pepin had broken his collarbone whilst training for Thundersprint, on his Trials bike.

I sent him commiserations, and wondered what this would do to my chances of winning?? My son and I hopped on a plane a couple of days before the event, and made the long trek from California. Due to a lack of availale parts, the only thing we could do to the bike was lower the gearing considerably, fit a new chain, -- and hope for the best !! On seeing the track for the first time, on Saturday 6th, I realised we had the odds stacked against us pretty well. The start straight was about 100yds, leading into a 90 degree right hand hairpin (the track only being about 12 feet wide, with NO run off !!) then a short straight leading into a long, bumpy right hand sweeper, another short bumpy straight and a left hand 90 to the finish. Total distance just about 1/4 mile. As you see by the pics of the bike, it has a 6 1/2 gallon petrol tank, which is absolutely necessary for the IOM, however, just TOO BIG for just over one minutes hectic hustling round the Carpark !!



Next issue was the fact we have the latest Dunlop racing tyres on there. They are the same compound as GP 250 slicks, -- just that they are treaded. The tyres are phenomenal on a real racetrack ----- WHEN THEY HAVE HEAT IN THEM !! It was quite clear there would be absolutely NO chance of getting them up to working temperature, and that was a MAJOR worry. The "Old Hands" there, mostly had good road tyres, - or Avon racing tyres, that work OK whilst cold. Ah Well --- way too late to change things now, with the competition only few hours away !! During the Saturday festivities, it was great to meet legends Jim Redman and Sammy Miller, as well as British Superbike Star Leon Haslam, ex British Champ John Reynolds, and a lot of the other riders. Frank had arranged for me to pit up with an old friend of his, Peter Wilson, who travelled up from the West Country to race his 250 Honda. He and his good lady, Farida, picked up my bike and gear Sat afternoon, and --- the stage was set for Sunday. Signing on at 6.15am Sunday, the skies were very dark, and rain seemed imminent. Just about everybody was dreading it raining -- especially with the track layout not allowing too much run off ----- get in trouble, and you'd be in the bales OR the fence that surrounded the track!!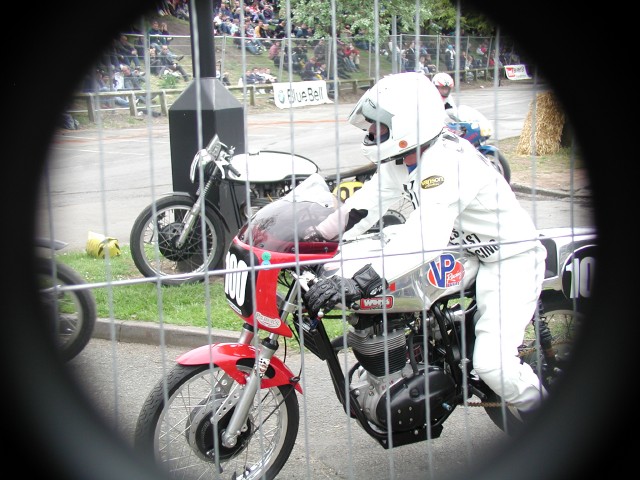 As I left the paddock for my two practice runs --- AAAARGH -- it started to rain!!! Too late to worry though -- ad, it was he same for all the riders in my group - Classic 500. Passing a few guys on their way back to the paddock, they warned me -- BEWARE -- it is VERY SLIPPERY out there !! I got my two runs in, with the bike sideways most of the time !! I couldn't crack the throttle at all, without the back tyre skidding like crazy !! Now I know what it is like riding on oily ice !! I posted a couple of 30 second passes, which was right around where everyone else was-- SO, although it wasn't too enjoyable, I wasn't too far off the pace.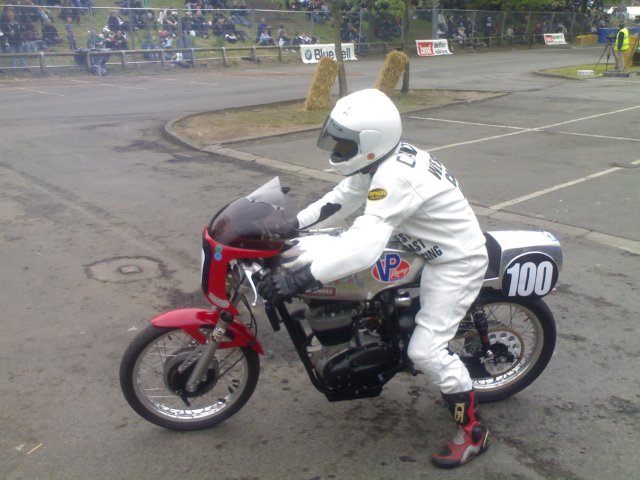 As race time drew closer, it dried up, and the times started falling drastically. Frank won the Masterclass on his Suzuki with a time of just over 24 seconds, Jim was second -- only a split second ahead of Sammy. I had talked to most of the riders in my class -- many of them having done it before, however, nobody was giving me too many tips on going fast !! I guess they were a bit wary of the horsepower of my B50 ?? Little did they know, that due to the cool temperatures for the tyres, and the incorrect set up of the bike -- suspension too hard, and tank too big, I knew I had an uphill task ahead !! Going to the line for the first run, I had already decided that keeping it "Rubber Side Down", and --- going home with no broken bones (and bike !!) was a lot more important than becoming another casualty hero !!. Being a single daddy also makes me a little less crazy these days !!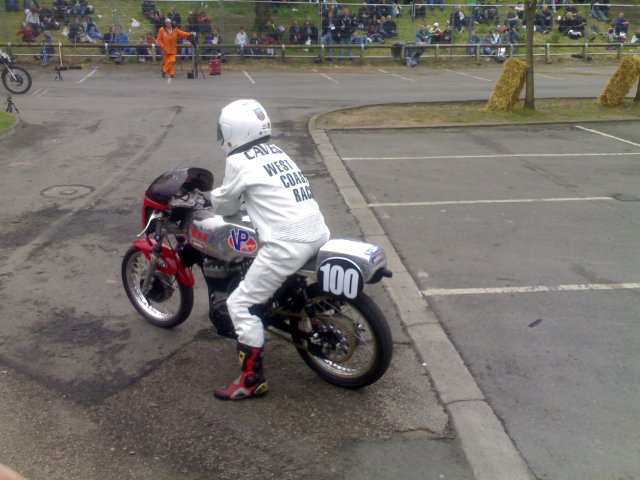 I got my three passes in, without too much hassle -- just couldn't use the awesome power and torque my bike produces, and went a second faster each time. (Who knows -- with another four runs, I might have been closer to winning !! ) I ended up fifth in class, with a 26.5 second time. Winner, Gary Jamison, from Belfast Northern Ireland, on his "Black Bomber" Honda, destroyed us all with his time of just over 22 seconds, which ended up being the fastest time of the whole competition !! Gary was riding great, was very unassuming about his victory, and ended up a very worthy Champion. (Still wouldn't tell me his secrets of how he went so fast -- just told me "Brid -- you've got to get a Honda !!" The crowds were amazing, with over 130.000 people in attendance. The atmosphere was great, with all the racers pretty happy, and best of all NOBODY got hurt !! My pit mate Peter had the bad misfortune for his front brake to lock up going into the last left hander, and he lowsided out of the competition. Unhurt, he shrugged his shoulders and said "That's racing -- I'll be back !!" good news for a 62 yr old, with lots of racing miles to his credit -- GREAT SPIRIT !!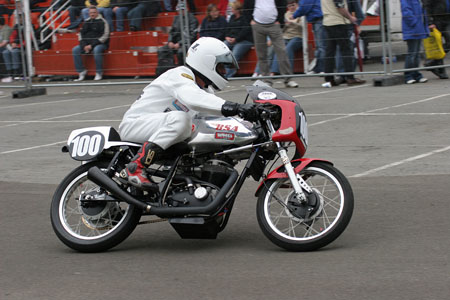 So-- that was my first experience of Thundersprint-- and racing in a Carpark. I had a giggle to myself during my first race run, as I likened myself to a Roman Gladiator fighting in the Colliseum in Rome, with many thousands of people looking on !! Just one thing though - the spectators weren't there to see lions eating people, --- more to see a couple of hundred dedicated racers trying for that elusive fast time through the bumps !!

I have to thank a few people for making it all possible ---
Sponsors - Works Performance Shocks, Vanson Leathers, Barnett Clutches & Cables, Sprocket Specialists, VP Racing Fuels -- Steve from Motorshack. Chris Foster for hauling the bike, All at J&S for storage and workshop facilities, Paul, Simon, Sarah etc-- and especially the mechanics, Chris, Andy, Benjy, Tom -- et al. Peter and Farida Wilson for their friendly pits, and hauling the bike. Racing Personalities winner, Peter Whiteleggs team, for helping get the B50 fired up at the start line. Paul Wilkinson of the BSAOC for storing the bike after the show My great friends Allan & Elaine Denby & kids Colin & Sally for looking after us like family. Sammy Miller for his "coaching", Jim Redman for still being a great Champion, And, last but definately not least -- Frank, Carol & Lizzie Melling for the invite, and putting together such a dedicated crew, including Ann, and all the "behind" the scenes faces, that made Thundersprint 2006 such a resounding success. Anyone I've forgotten -- it's not intentional, and 'll catch you next time around !! It is still a complete mystery to me how they pulled off getting all those people into that small Cheshire town for just one day??? I guess the Stars must have all been aligned just right??


Now -- how about 2007???

Brid Caveney
West Coast Racing
2005 Best Of The West Champion
2005 Dixie Cup Series Champion
2004 Classic 60's 650 National Champion
1996 National Trials Champion
http://www.westcoastracing.net
Salinas, California. USA

---
Updated 22:38 2006-05-14
© Rickard Nebrér