BSA B50 MX Photo.

Do you want to have your BSA B50 MX on this page please
send me your photo and I publish it here.
B50 homepage

---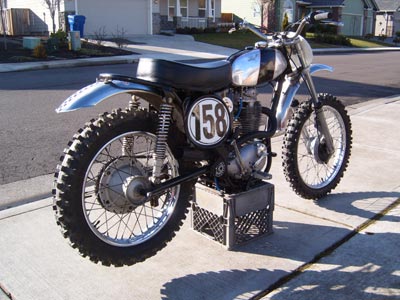 Britt Boyette ´s BSA B50 MX.
( Keizer, Oregon USA )



Here's some pictures of my 71 B50MX. All the pictures are less than two
months old. I race the bike in VDRNW, (http://www.siegecraftnw.com/VDR.htm).
This was my first race on any 4 stroke and I must say that I had more fun on
this bike than any vintage 2 stroke bike that I've had for the last 4 years.

It's a different style of racing but I like it and the bike very much. The
bike is unrestored and in excellent condition. New tires and seat cover have
made it look like new.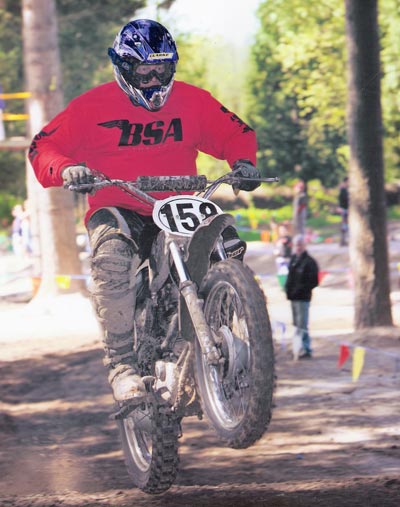 Britt Boyette
Keizer, Oregon USA
---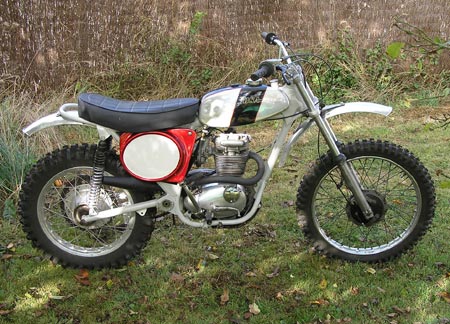 Brad ´s BSA B25 MX.
( France )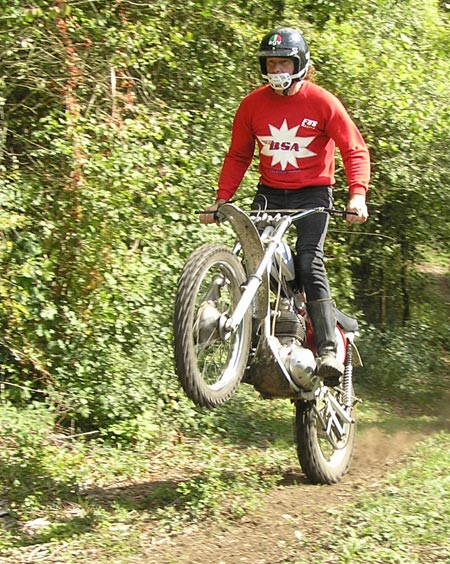 I have used an ex-B50 MX frame (EE11340) and un-numbered NOS SS crankcases
that I bought about 15 years ago. The only engine mods at the moment are a
ported and flowed cylinder head and a 30mm carburettor.
I may try an MX cam later on. It is so light it feels like a toy and providing
the engine is revved, it is a rapid mover!

Brad & Julie
---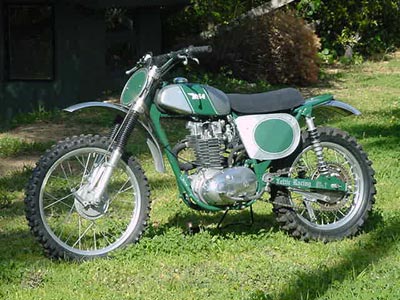 Michael Bowen´s BSA B50 MX 1973.
( Ojai, Califonia, USA )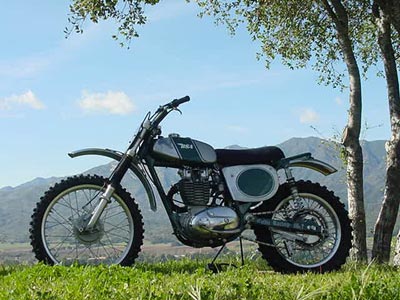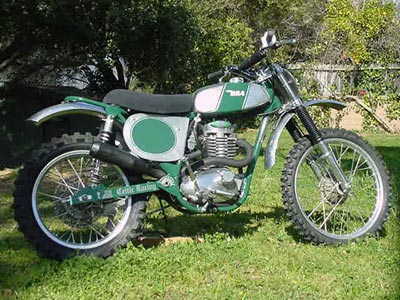 I bought it on ebay in 2002 and promptly took it apart so I could paint it,
clean it and fix anything needed. I run race fuel and Morris castor/synthetic
oil for the complete' vintage effect'.

Betor forks, Maico front hub, CZ rear hub, E&V Swingarm, Works Performance shocks,
A.R.D Magneto,Mikuni carb,Megacycle cam, Carillo rod,Cosworth piston, Black Diamond valves,
Nascar guides,S&W valve springs, Titanium keepers, CR Axtell ported head,
'CCM cut' barrel & head fins, D.I.D. rims,stainless spokes, Metzler tires etcetera.
Michael Bowen
---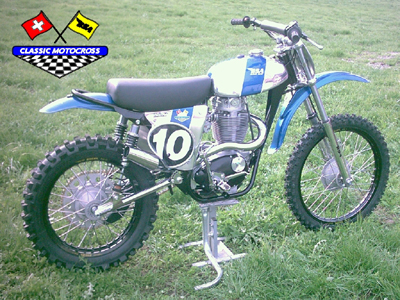 Dany Nüssli´s B50 MX (Switzerland).

My Bike for the 2005 season is finish and I hope, you like it !!!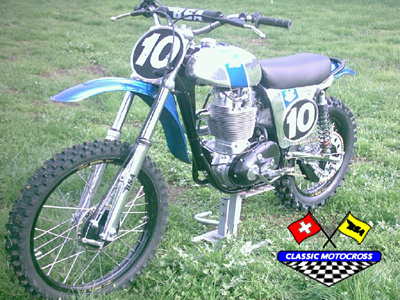 Technical Infos:
Engine: BSA Unit Single
Bore x Stroke: 90 x 100mm, 635cc.
3 Speed Gearbox (NEB)
NEB Clutch
Megacycle cam

Frame: TBTechniek Holland (B50 Replica)
Grimeca Wheels with Excel Rims
Ceriani Fork
Reiger Shocks
Renthal Handlebar and Magura Levers


Dany Nüssli
---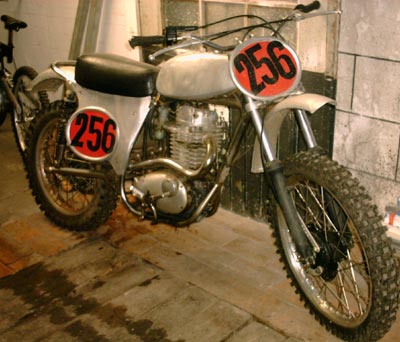 Paul´s AKA "bsamxer" B50 MX (Belgium).

Couple of pictures of my works B50, I bought the bike in 1980 and restored it in 92.
It has all the magnesium and titanium pieces. It now belong's to a collector here in Belgium.
I sold the bike last year.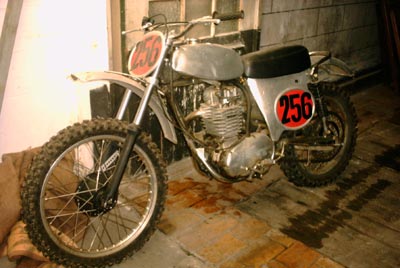 Paul
---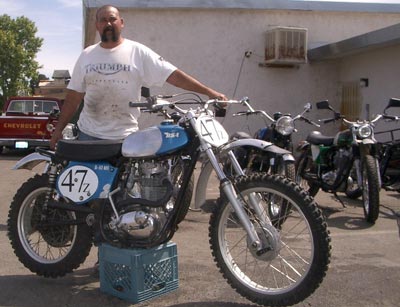 Joseph Augustine´s B50 MX (USA).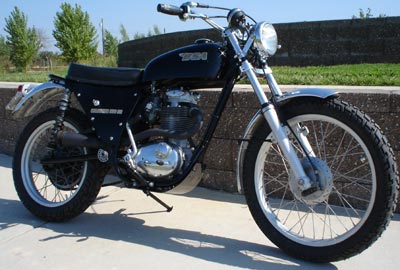 I was talking to dick mann at our richmond ramblers 60 year anniversary about
the B50,he looked it over,I showed him a picture of the bike as a motocrosser
when I recieved the bike and he told me that he built the bike for a racer.

He did not give me all the details about the build, but some of the details are,
move and relocate the pegs, balance and port the motor, Bator front suspension,
sun racing wheels, aluminum fenders, renthal handlebars, the gas tank is an aluminum
62 goldstar tank,I had to modify it to fit on the oil in frame,
and I made the side covers/airbox. Thats all I can think of
off the top of my head. The bike on top is actually the same bike.




I have a small shop in Sacramento California. We are called BritBikeBuilders,
you can see more photos on my webpage @
www.BritBikeBuilders.com
.
Joseph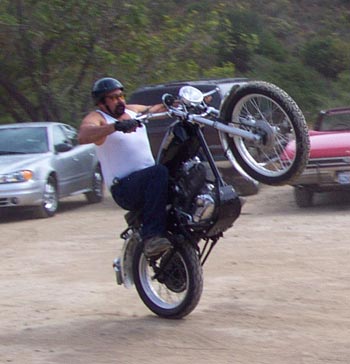 Powerful machine!!

---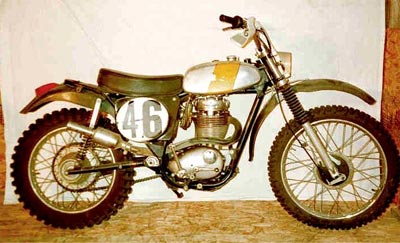 Peter Hollnad´s B50 MX 1971.


---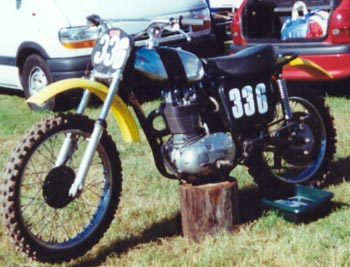 Leigh Owen´s B50 MX (Shropshire UK).

This B50 is an ex californian bike from 1971.
Leigh Owen


---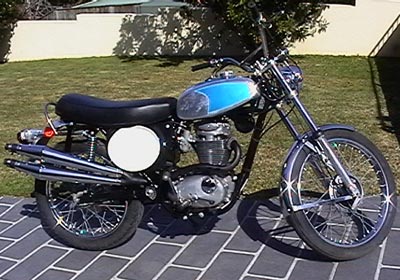 I just took delivery of one of the brand new B50s being sold out of the US from Cycle Hub stock ...

It has never had fuel in the tank and shows 00000/6miles!!
Very exciting!

Peter Holland


---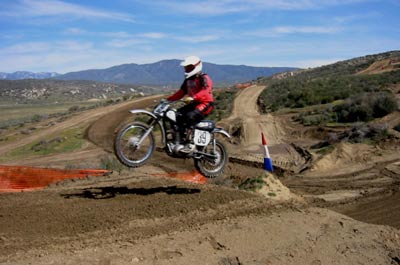 Here is a recent photo of my flying my 1971 BSA B50MX at Cahuilla Creek MX park in Anza, CA.

I restored the bike about two years ago and have raced in local CALVMX events, the Elsinore GP and a few AHRMA events on it.

Larry Reiter U.S.A.



---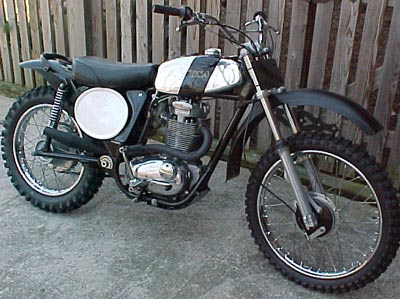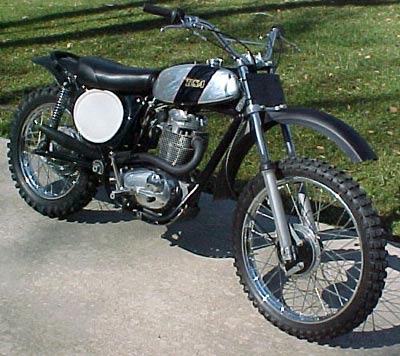 This is a 1973 B50MX. I have both gas tanks, the photo shows factory paint on the 1 gallon tank. I changed the counter sprocket up to a 17 tooth for more speed and it worked great. I found the bike at Baxter Cycles in Marne Iowa the same day it came in as a trade from Sturgis South Dakota. The cycle has barely been ridden. I installed original new cables, handle bars, new number plates and plastic Preston Petty Fenders. I have the original exhaust system that is 100% shiney and both steel front and rear fenders so bolt on back to 100% original is easy. The carbon fiber number plate was a great addition.


Mark Oden, Salisbury, North Carolina U.S.A.


---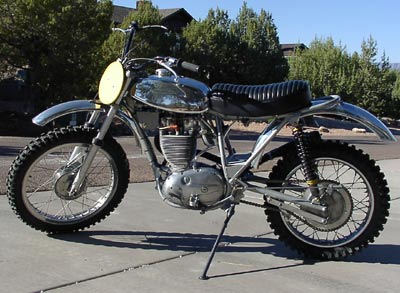 Don Shores BSA B50 MX

I'm just getting finished restoring this bike, it was used for desert races in Arizona during the 1970's. It is a 1971 B50 SS.
Don Shores Arizona U.S.A.


---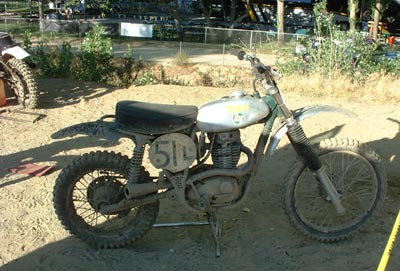 Gary Lower´s BSA B50 MX

Here is a photo of my B50MX after the vintage Iron World Championships at Glen Helen in San Bernadino, California in the USA.

Gary Lower. California U.S.A.


---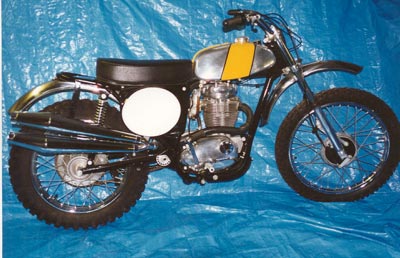 Mike Trapp´s BSA B50 MX 1972.
Colorado Springs Colorado USA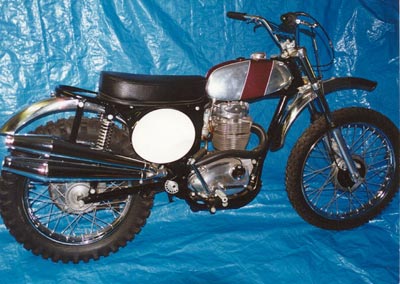 Mike Trapp´s BSA B50 MX 1973.

In 1971 I bought the first 500 MX sent here. In fact I ordered it Over 6 months before I got it
Mike Trapp
---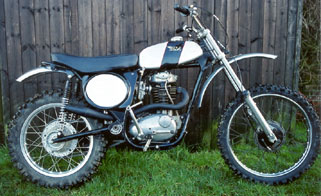 Brad Jones BSA B50 MX (1973)
UK

My recently finished BSA B50 MX. It has been built up from bits I've acquired.
The frame is a new/old stock 1973 MX, swinging arm new/old stock 1972 item (complete
with bearings) and the 1 gallon fuel tank is unused and is also original factory paint.
It is fitted with a 572cc CCM engine and BSA outer covers.
The seat is from a Triumph Adventurer (I find the MX one too short).
Brad Jones
---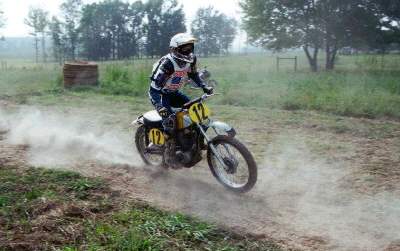 Berry Castle´s BSA B50 MX
Georgia. USA.

This pictures are from the "Runnin' Brand Grand Prix", held in Alabama last September. My brother is aboard (I was racing my Honda CR). He suffered a DNF. Ignition failure (surprise, surprise...).

Barry
---

Arden Nelson´s BSA B50 MX (1971)
Washington. USA.

I bought new in 1971. At that time we did trail riding and some hill climbing on weekends. The bike is like brand new and probably has only 100 hours of run time.
I have had it running as recently as last summer. At that time I decided to adjust the points and I haven't been able to get it started since.
I have made two modifications to the bike. One of the skid plate and the other of the 56 tooth sprocket. We used the larger sprocket for getting the right hill speed for hill climbing. Course all this was done when I was a little younger ( 20 years ago).

Arden Nelson
---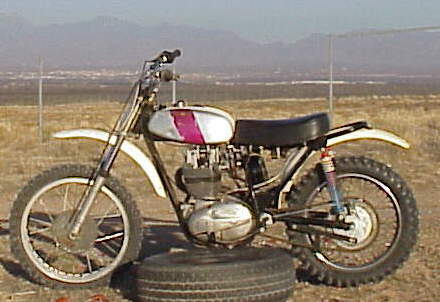 CLINT WELSH´s BSA B50 MX
NEW MEXICO, USA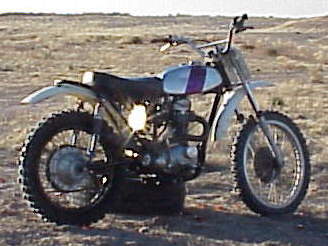 THE CZ FRONT END IS A FAIRLY COMMON
CHANGE OVER HERE.

---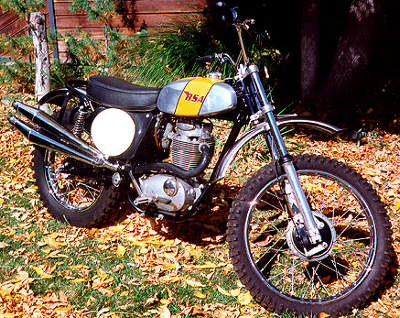 Cliff Lines BSA B50 MX ( 1973 )
Boulder, Co. USA

I bought this bike new in 1974 after Triumph Motors had bought out BSA. It says on the title it's a Triumph B50MX. I didn't like the close ratio transmission for the trail riding I was doing, so I installed a standard transmission from a B25. I installed lights and plastic fenders and used the bike mainly for trail riding in the Rocky Mountains. I finally put it back to stock condition about 10 years ago and this picture was taken 3 years ago. It still has the stock Dunlop knobby tires on it. ClassicBike did a story on B50's of the Rocky Mountains in the 1985 October issue. A friend wrote the article and there are pictures of me riding my 580cc B50T. We took pictures of my B50MX, but it did make the story.
Clif Lines
---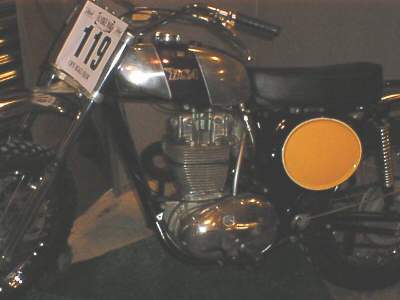 Photo from a off-road show in UK. Photo from Simon Parker.



This MX was brand new never started. (its never even had a spark plug fitted)

Simon Parker.
---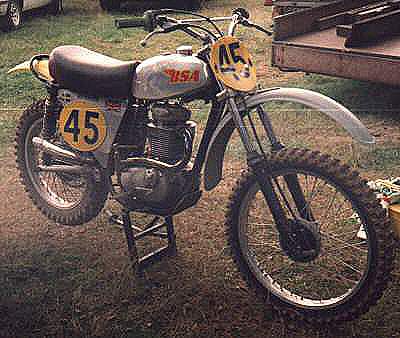 Kuno Larsson´s BSA B50 ( 1969 ).
Sjöbo. Sweden.
Point at photo to see left side. 27 kb.


---



Bengt Ahlström´s BSA B50 MX ( 1971 NG )
Ängelholm. Sweden.

---


Simon Parker´s Ex BSA B50 MX ( 1972 )
Leicestershire England.

Point at photo to see left side. 51 kb.

Look at Simons´s Ex CCM´s.---Look at Simons´s Ex BSA B50T.---Look at Simons´s Ex BSA B25SS.


---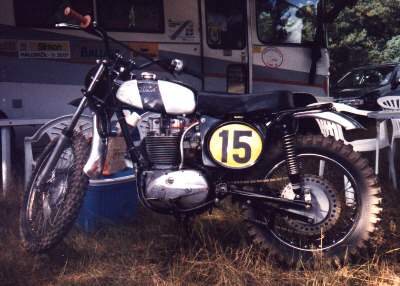 Gösta Nilsson´s BSA B50 MX (May 1971)
Broby, Sweden


---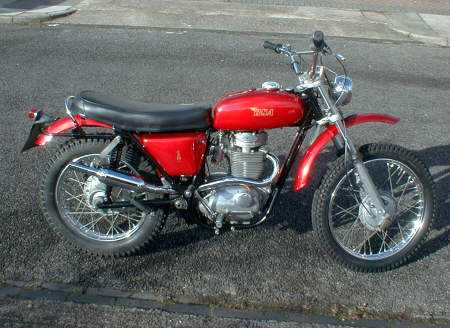 Steve Woods BSA B50 MX (1971)
Birmingham, England

Until I purchased it it was used in Motocross and Green Lanes, however I intend to convert it to road use with the occasional Green Lane.
Steve Wood
Point at photo to see before the new paint. 19 kb.

---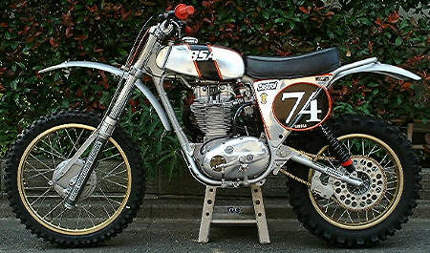 Takahiko Nozawa´s BSA B50 MX
Kanagawa Japan
Point at photo to see more. 77 kb.

This is my B50MX for Vintage Motocross in Japan.



Modifyed points :
CR250R ('86) Front Legs. But it's 9 inch stroked.MT250 Front brake.
CR250M ('74) Front fender. CR250M Rear fender
CR250R Rear Hub. All SUS Bolt & Nuts.
Cut and Away Fuel Tank.
CCM like Cylinder Fins ( It was Heavy work for me )
AL Under gard. AL Side panels.
Boyer CDI. Mikuni TM32 Crab ( It is very good result for it )
L side shift pedal ( It was Heavy work for me also )
Chain sliders.
Change position for Suspension upper mount and Progressive Suspension units.(8 inch wheel stroke)

Lightened, Total 103kg ! (My goal is under 100kg)
Takahiko Nozawa
---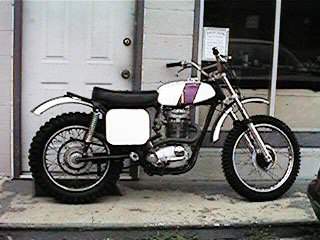 Doug´s BSA B50 MX (1972).
Alabama (USA).
Doug´s Homepage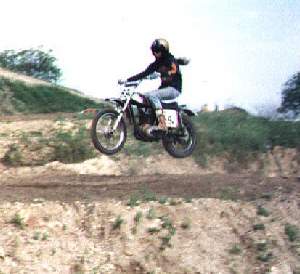 ---
TO TOP
Updated 23:33 2006-05-14
© Rickard Nebrér